MICRO FLOTATION DAF
Aveka Çevre
Micro flotation DAF application is a new application and offers many advantages over conventional DAF system. The dense microbubbles produced increase the surface area and thus surround the emulsified oils and facilitate their transport to the surface. With this flotation effect, the solids and oils suspended in the water move upwards and the water collects on the surface. Then, with the help of surface scrapers, these waste materials are removed from the surface. They are generally used in wastewater treatment plants of dairy processing, food, meat integrated facilities, fisheries, slaughterhouses, beverages, chemicals, paper and pulp.
SEAL Series MF DAF package systems consist of the following models to meet a wide range of needs such as 1-200 m3 / h:
| | |
| --- | --- |
| MF DAF 20 | 1-3m3/hour |
| MF DAF 25 | 4-7m3/hour |
| MF DAF 32 | 8-15m3/hour |
| MF DAF 40 | 16-24m3/hour |
| MF DAF 50 S1 | 25-40m3/hour |
| MF DAF 50 S2 | 41-60m3/hour |
| MF DAF 50 S3 | 61-75m3/hour |
| MF DAF 65 | 76-100m3/hour |
| MF DAF 80 | 100-200m3/hour |
Equipment used in the system:
1-System Feed Pump
2-Flotation Tank
3-Settling Area
4-Oil Scraper
5-Oil Container
6-Microbubble Generator
ADVANTAGES OF MICROBUBBLE DAF Unit:
Easy to assemble:
The micro flotation DAF system contains only the DAF pump in contrast to the equipment density in the conventional DAF System. It eliminates excess pipe connections and complex construction in a conventional DAF system; solution tank, compressor and ejector are not needed. It provides an ideal solution to increase process capacity.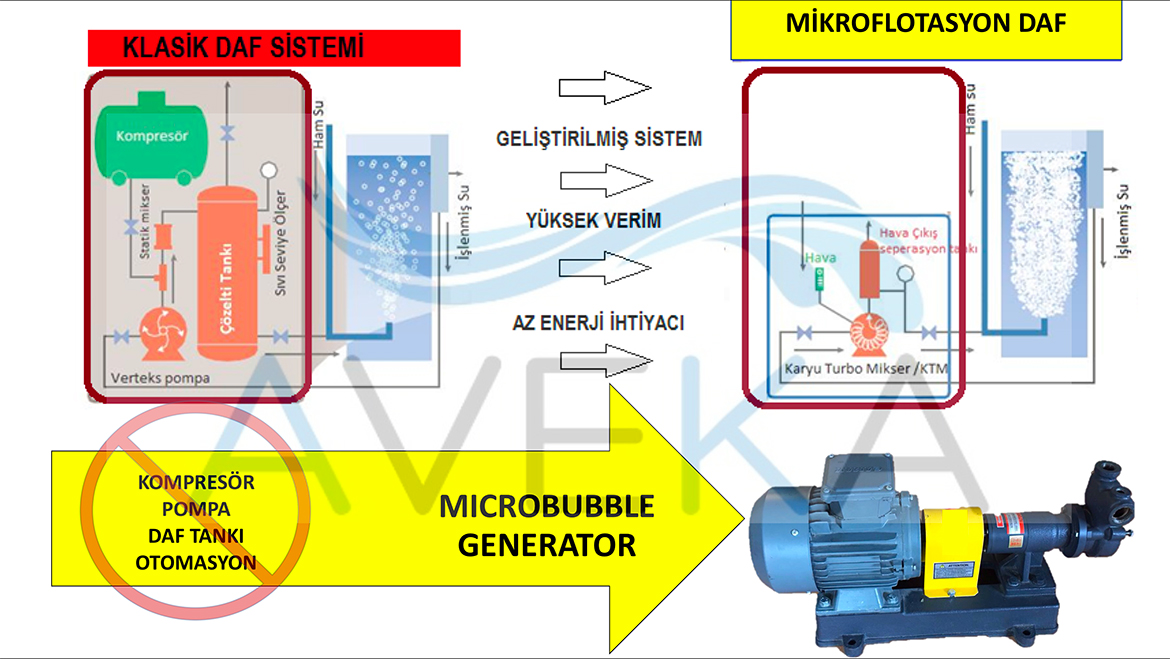 High Treatment Efficiency
The size of the microbubbles is 20-30 µm. It provides 80-90% oil removal efficiency. In cloud view, it produces high density microbubbles, so that the contact time with the wastewater is longer than with the conventional system.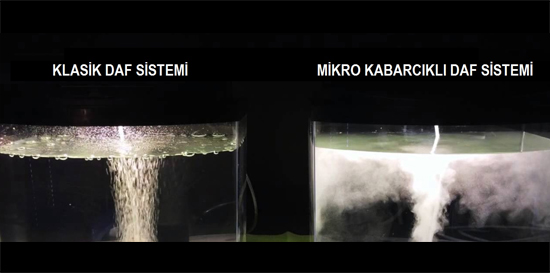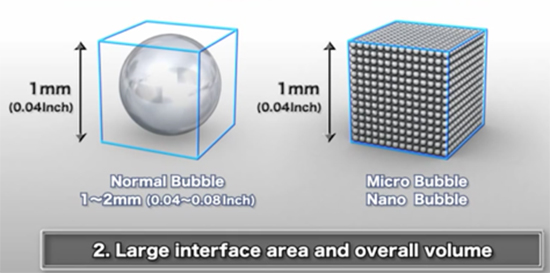 Easy to operate:
Thanks to its simple structure and uncomplicated operation, it is very easy to operate. Water height, pressure, air quantity etc. are not effected by environmental factors.
Energy Saving:
It provides a significant advantage in electricity expenses as the power consumption is only a microbubble generator.
Unique Design:
It produces high density micro bubbles thanks to its special design. In pump suction, it mixes air and water. It doesn't use any solution tank, compressor or ejector. The main functions of the system are: SUCTION, MIXING and POWERFUL feeding.